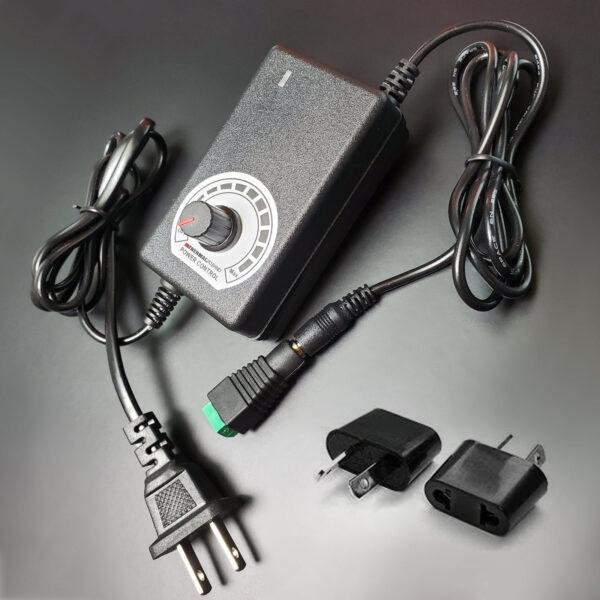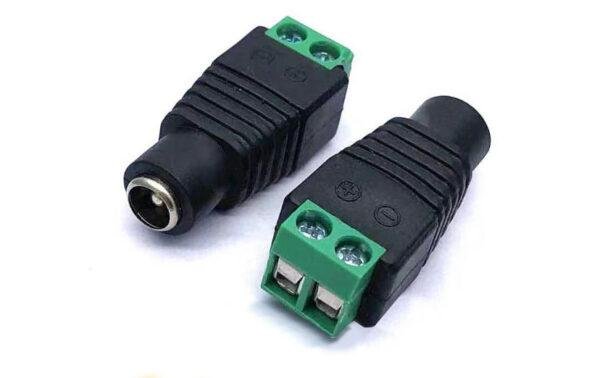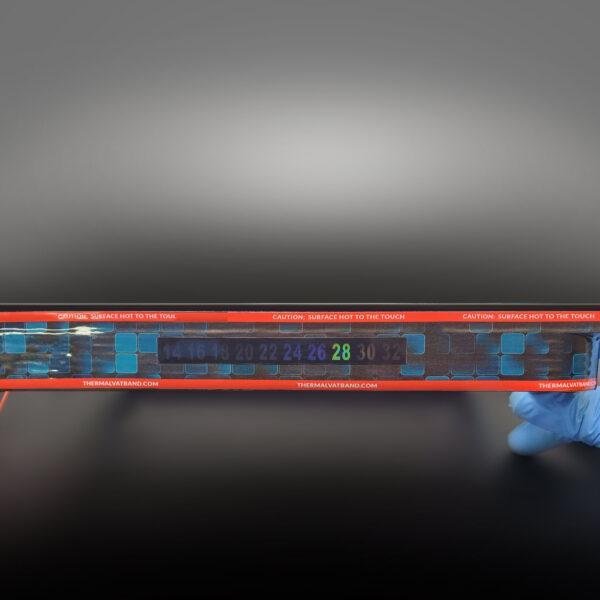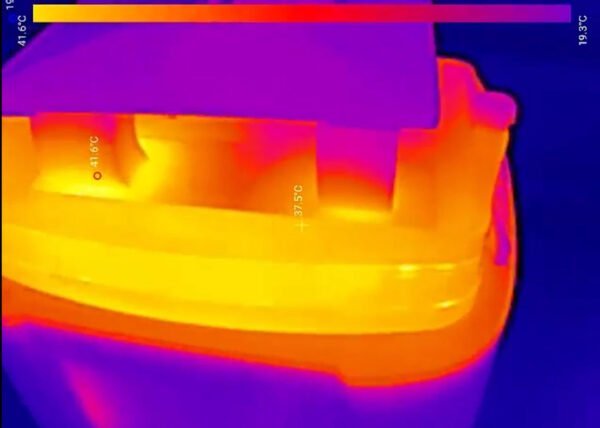 TVB-161 KIT INCLUDES 3A POWER
ThermalVATBAND is a simple adhesive tape that, when applied to a 3D resin printer VAT, will maintain an ideal temperature for your photopolymer resin, despite the ambient temperature. ThermalVATBAND regulates temperature using two smart thermostats that can be easily attached and are safe to the touch. Using ThermalBand is efficient and cost-effective, with only 12 watts of power costing significantly less than any heater on the market.
– Vatband uses a solid silicone wire, making it durable when an acrylic cover is placed on top.
– Vatband does not have to cover 100% of your VAT; you can still maintain the required heat because the Z axis mixes the resin to ensure homogeneous heat coverage. (See infrared imaging.)
One power source can power up to three VATBANDS using a splitter. When sharing one power adapter with three VATBANDS, be mindful that power is distributed equally and maximum power should not exceed 3 on the power band. If you see the power adapter light blink, you should turn down the power until it stops blinking.  Because the power is shared, your maximum temperature will range from 75°F to 80°F, whereas one powered VATBAND can reach up to 90°F, and you can use the power adapter to its full capacity.
23
people are viewing this right now
Frequently Bought Together

This item:

TVB-161 KIT INCLUDES 3A POWER
Description
The ThermalVATBAND kit includes the 16×1-inch TVB-161 and a power adapter up to 240 volts, making it ideal for use in any country with a plug conversion. Power adapter comes with US plug you must choose your country plug conversion plug.
The output operates at a safe range of 12 V/3 A without the risk of damaging FEP or plastic VATS.
The band itself features a flexible thermostat that allows you to maximize the temperature in extreme cold conditions by flexing the thermostat away from the VAT.
The recommended optimum thermostat position is touching the wall. This will automatically regulate the ideal VAT temperature, ranging from 22 °C (70 °F) to 32 °C (90 °F).
– In extreme cold weather, we do recommend a foam tape applied under the case for a better seal, preventing cold air from coming inside.
-Aluminum tape is an alternative tape that can be used on corners or on the interior vat of plastic vats to create a resin and IPA proof seal that allows heat to conduct safely.

To maintain the ideal temperature and match the temperature of the liquid resin, the build plate must be submerged in the vat filled with resin after each use. Following these guidelines will prevent the build plate from rapidly cooling the resin's temperature. 
– The thermostat reading is from the direct heat of the VATBAND, and the resin will be 5 degrees less. When you see the thermostat go black, the temperature cycling process is rapid, and the thermostat will have a slight delay in reading. Rest assured that your ideal temperature range is cycling, which will prevent FEP from shrinking.

Package content
1- ThermalVATBAND
2- Cover sticker over ThermalVATBAND (protects/prevents from peeling caused by resin and IPA)
3- Thermometer sticker and aluminum tape goes over the thermostat taped down to touch the ThermalVATBAND.
4- Scuff pad for installaling ThermalVATBAND (use to remove any left over resin on VAT frame)